Rappahannock and Fauquier team up to promote local business
This article originally appeared in the Rappahannock News.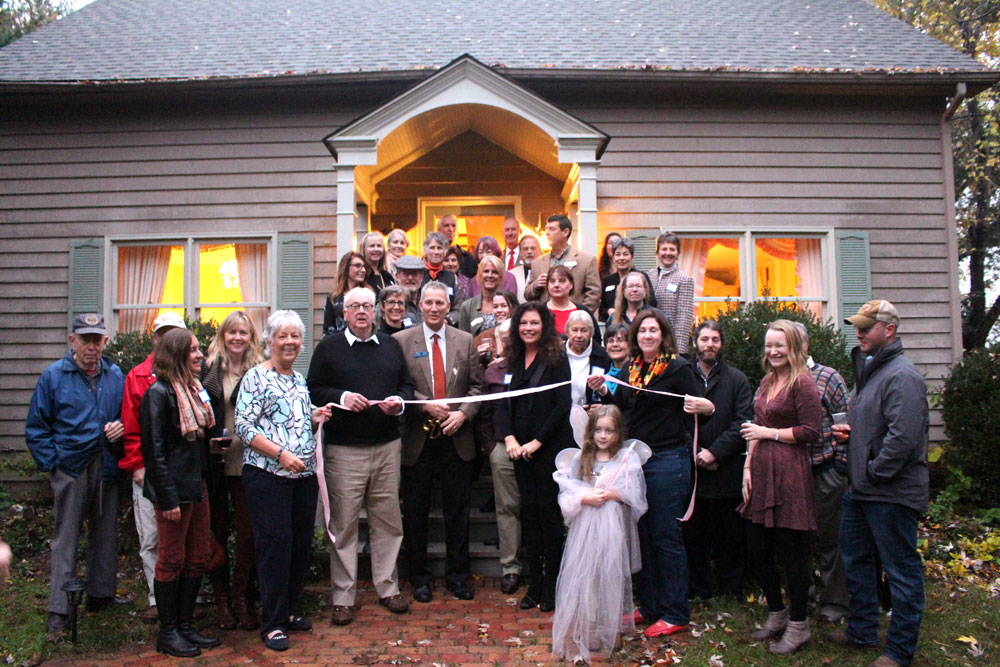 By Cheryl Vosburg
Special to the Rappahannock News
A new tourist home ribbon cutting last week marks the first time that Businesses of Rappahannock and the Fauquier Chamber of Commerce have joined forces to support a local business and tourism as a whole.
LeFay Cottage at Little Washington proprietor Sally Anne Andrew was joined by Joe Martin, president of the Fauquier Chamber, Berni Olson of Businesses of Rappahannock, Washington Mayor John Fox Sullivan, and Rappahannock County Supervisor John Lesinski to celebrate the opening of the guest house with a joint ribbon cutting last Thursday, Nov. 9.
Andrew's long-time presence in the area prompted her to reach out to both organizations, along with Mayor Sullivan, in the belief that they are all important partners whose support is vital to her business and to the area's future.
"Tourism is an important part of the economy here," said Mayor Sullivan. "It provides a lot of jobs for people, particularly young people. Visitors come for food, wine, Shenandoah National Park, and the uniqueness of Rappahannock, a beautiful place."
"It is our belief that cross promotion of local business is a great way to promote tourism in the region," added Martin. "Six years ago we took 'county' out of our name. The Fauquier business community goes way beyond Fauquier. We love going outside our county and welcoming businesses to our community."
Commented Businesses of Rappahannock president Theresa Wood: "We are very excited to welcome tourists into our county and our community and very happy to do that in conjunction with Fauquier, our neighboring community. I look forward to continued efforts and success with Fauquier and our other neighbors as well."
About 50 guests joined the festivities that Gadino Wine Cellars and Copper Fox Distillery co-sponsored to help kick off the welcome ceremony. Attendees were treated to tastings by both along with an array of heavy hors d'oeuvres.
LeFay Cottage gives visitors a unique option to anchor a stay in the area. "It is a first-class tourist home," according to Andrew, who has been able to see her vision come to fruition after almost 17 years in the making.
"I want people to know they can come out to this tourist home and enjoy pampering and luxuries but still manage their own life," said Andrew.
Personalized concierge service by Andrew means guests don't have to do outside research to plan their stay; she offers detailed suggestions based on client interests, collaborating on the perfect itinerary.
Andrew has been passionate about the project of renovating and refurbishing the cottage, which was once a cabin on an old Christmas tree farm, hence the charming address, 41 Christmas Tree Lane.
She slowly cleared the land, and spent weekends doing what she could to maintain upkeep including mowing it herself. Today the cottage is a cozy "magical" retreat where Andrew hopes visitors will create memories they will cherish.
Recent trip advisor reviews are complimentary: "Sally Anne has taken the traditional idea of an Airbnb to a new level; this lovely cottage felt like a home away from home. I applaud her for her vision and creativity — she has provided a fabulous opportunity to entertain in the country."
Another remarked: "If I had just three words to sum up LeFay Cottage they would be Heart-fueling memories! We are deeply grateful to Sally Anne for her sensitivity and thoughtfulness in arranging these special experiences (for a dear friend)."
"This is a great setting," said Mayor Sullivan. "I believe LeFay Cottage and Andrew will do very well — it's a place for someone to settle in for the weekend and relax and you're not very far from some very good vineyards."
Referring to Rappahannock, Fauquier, and the town of Washington, Wood said, "We are a very well-kept secret and we need to share it more!"
Visit www.lefaycottageatlittlewashington.com for more information.