Restoring Fish Passage on the Patapsco River
The Bloede Dam will be breached for aquatic connectivity on Sept. 5. Families can expect 17 miles of contiguous river for swimming, fishing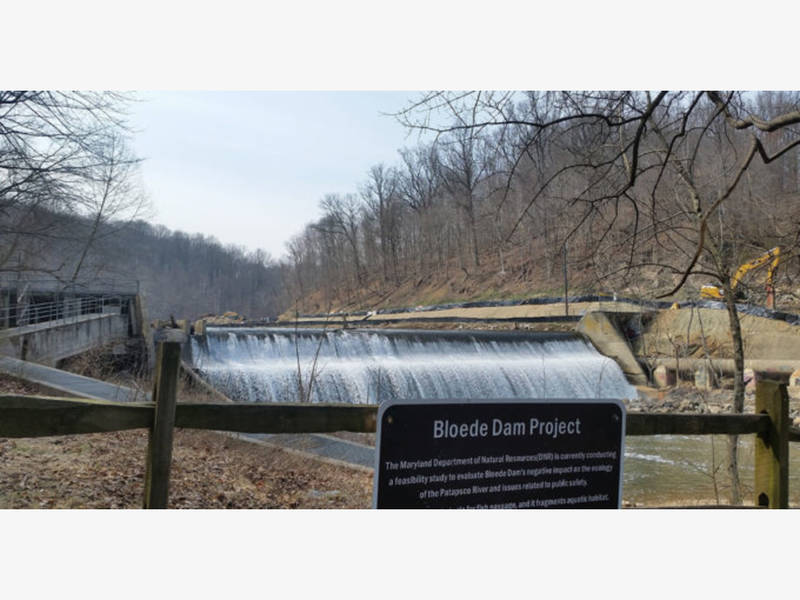 Restoring aquatic connectivity on Maryland's Patapsco River will be a boon to wildlife and people alike when the Bloede Dam is dismantled starting Sept. 5 after Labor Day. This flood-prone area near Ellicott City, Maryland will soon see some flood relief, thanks to a grant from the National Fish and Wildlife Foundation's Hurricane Sandy Coastal Resiliency Fund.
As major flooding in our region and storms like Hurricane Sandy become more common, one of the best safeguards against the impacts associated with large-scale flooding is giving rivers more room to move. By restoring rivers and floodplains to align more closely with their natural stream channels and permitting fish passage, these ends are achieved.
The Bloede dam project will open more than 65 miles of stream to provide additional habitat to native diadromous fishes (live in both fresh and saltwater) and will also reduce the risk of safety hazards. Soon, tourist and visitors will be able to swim, boat and float on rafts on nearly 17 miles of the Patapsco. As the first dam on the Patapsco, the Bloede removal is the linchpin of a larger effort to address three additional mainstem dams and restore aquatic connectivity through much of the system being conducted by American Rivers. Bloede dam is expected to be breached on Sept. 5 with state officials including Governor Larry Hogan on-site to support the fish passage program.
Dam is over 110 years old
"This dam removal is one of the most significant river restoration projects in both Maryland and throughout the Mid-Atlantic," said director of river restoration for American Rivers, Serena McClain. The dam was first erected in 1907 and is over 110 years old!
"Not only are we taking out a dam that has been a safety hazard, this project is also a crucial step in efforts to restore an important economic and recreational fishery in the Chesapeake Bay watershed," said McClain. "The Bloede Dam project exemplifies restoration work that provides a multitude of benefits and will serve as an inspiration for future efforts."
Fish populations will see an enormous benefit as the river provides important spawning habitat for shad, river herring, and American eel. The Bloede Dam is one of the highest priority dams in the Chesapeake Bay watershed in terms of river herring conservation. The U.S. Fish and Wildlife Service have estimated fish populations as high as 400,000 below Bloede Dam in recent years. American Shad have also been documented in the river after an extended absence.
Safety concerns are often an important factor driving this work. Aging dams and the threat of failure can put individuals and communities at risk. Bloede Dam is in a particularly vulnerable area given its location within the popular Patapsco Valley State Park, where swimmers come to enjoy the waterways on hot summer days.
Those working to create a safer Patapsco River include community members such as residents, retired park rangers and Friends of the Patapsco Valley State Park, Ltd., (FPVSP), a not-for-profit foundation. It works to fund the preservation of the natural life within the Park and to enhance its grounds, services, and facilities for public benefit through maintaining habitat and trails, planting trees to restore riparian areas, removing harmful plant species, and providing sheltered meeting areas and interpretive displays.
Jim Palmer, founding member of the Friends of the Patapsco Valley State Park, said: "Our Friends group has worked with the Maryland Park Service and American Rivers since 2003 to restore the Patapsco River to its original natural state. The benefits to fish migration, visitor safety, and aesthetic beauty will be felt for years to come. Canoe and kayak paddlers as well as fish will now have a barrier-free river from Daniels to the bay. Our thanks to Serena McClain and her American Rivers team for their leadership in these efforts."
The NFWF and U.S. Fish & Wildlife Service Bloede Dam project is on track to begin with an initial breach after Labor Day to connect the Patapsco River.
Mike Smith is a Loudoun County area writer. He has been a blogger for Patch for many years and as "The GreenSmith" for the Frederick News-Post. Mike writes for publications including Huffington Post and Patch. Mike supports the National Fish & Wildlife Foundation's Hurricane Sandy Coastal Resiliency Funding programs in Washington, DC. American Rivers is a grantee for this Patapsco work.
See this story as it originally appeared.