Pond Lily Dam Removal Restores A Secret Oasis
by ALEXIS JANNEY | Dec 6, 2018 3:00 pm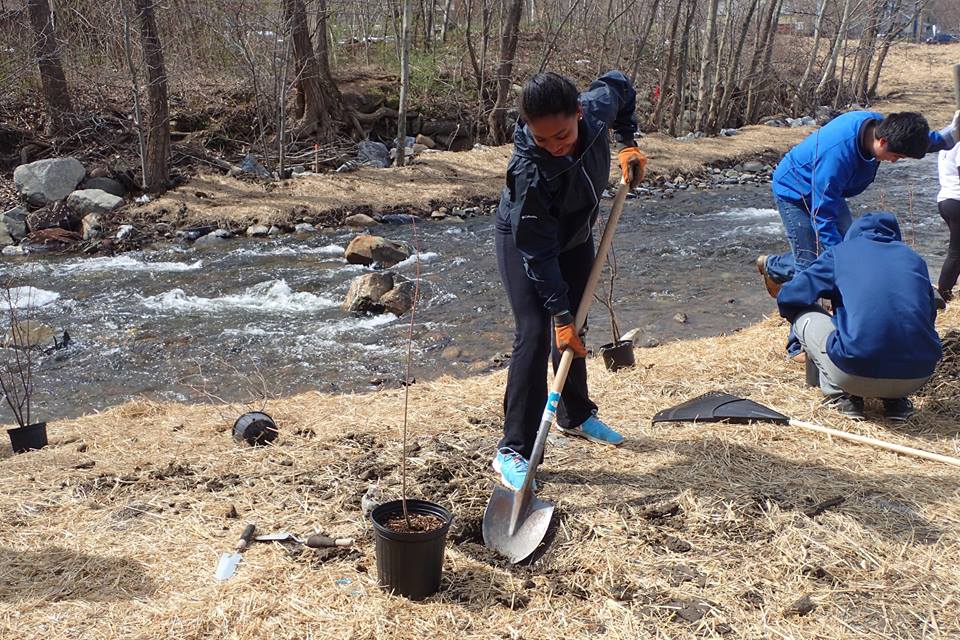 The Pond Lily dam removal is, at its core, an urban renewal and community resilience project on the West River.
It was once an impeded river due to the presence of a 200-year old deteriorating dam, originally built in 1794 to power a grain grinding mill.
Three miles of river has been returned to its natural state, providing spawning access for many migrating fish species. (Read here and here for more about the removal of the Pond Lily dam. )
Six years ago, Pond Lily dam lay fallow on the West River, which was lacking migratory fishes and prone to flooding. The Westville Village District had experienced repeated flooding to homes and businesses in past storms. Removal of the Pond Lily dam was needed to help protect the neighborhood and local businesses as well as improve habitat.
Now, it is a nature preserve abundant with migratory fishes, including alewives and river herring, as well as native perennials and vegetation. Not only does it serve as a secret oasis for the McConaughy Terrace community, but it has restored 2.6 miles of stream access and improved trail quality along the West River.
Forward-Thinking Funding
The West River watershed received a grant to restore tidal flow and install self-regulating tide gates in 2011. After the restoration efforts began, there was increased community interest in restoring other parts of the river. Funding provided by the Department of the Interior through a grant from the National Fish and Wildlife Foundation's Hurricane Sandy Coastal Resiliency Competitive Grant Program and from Trout Unlimited, the National Oceanic and Atmospheric Association (NOAA), Common Ground High School and the U.S. Fish and Wildlife Service (USFWS) was critical to move the Pond Lily dam removal project forward.
The Connecticut Fund for the Environment-Save the Sound received a grant for $60,000 to plan and design work needed to remove Pond Lily Dam in the West River, New Haven. An additional U.S. Fish and Wildlife Service grant for $661,500 was awarded to Save the Sound, Connecticut Department of Energy & Environmental Protection's Inland Fisheries and Dam Safety divisions and USFWS to remove the dam. In so doing, the project would increase capacity of the local coastal riverine habitat to withstand storms by eliminating the hazard of Pond Lily Dam's likely failure and restore a Federal public asset by promoting migratory fish passage of federally protected species.
The U.S. Fish and Wildlife Service administered a three-pronged approach to enhance coastal resilience to storm surge and future weather events by restoring aquatic connectivity, rebuilding marshes and beach dune areas. These actions will better protect and benefit wildlife, communities, and the economy by providing fish and wildlife habitat, reducing infrastructure damages, and increasing flooding resilience to the area. Rick Bennett, regional scientist and project leader for USFWS, stressed the resilience component of projects like Pond Lily.
"The funding for projects such as Pond Lily is unique in its nature. This funding was awarded to restore areas and better prepare for future challenging conditions, like hurricanes," said Bennett. The project redefines best practices by applying the innovative solution of dam removal to improve coastal defenses.
After Superstorm Sandy the vision for funding vulnerable or damaged areas changed, with a renewed focus and greater urgency to implement long range solutions. Pond Lily is an example of a project that was funded with what Bennett describes as "forward-thinking money." The project was funded to replenish a flood-stricken area and provide increased resilience against future storms while also providing access to habitat for migratory fish. Removing the dam reconnects the West River with its flood plain so the river can rise and fall normally, making it better able to handle flooding.
It Takes A Village
The complexity of this dam removal required a concerted effort. Luckily, Pond Lily had the support of numerous project partners and volunteers.
The New Haven Land Trust is the property owner of the Pond Lily Nature Preserve. Their mission is to engage people in stewardship and cultivation of the land for a healthier community and environment through land conservation, community gardening and environmental education.
The Pond Lily project aligned nicely with these goals by attracting community attention to the preserve and its potential amenities including lengthened and improved quality of trails, an attractive draw particularly in a city setting.
Flowering And Flourishing
The Connecticut Fund for the Environment and Save the Sound orchestrated the engineering and construction work for Pond Lily. The urban setting once was the site of a parking lot with an adjacent pond; a failed dam posed serious damage risks to those in the area. Since the removal, the project site has transformed dramatically.
"It looks like a wild flower garden. An area that was mostly marsh vegetation now has a huge number of flowering plants and native wetland vegetation surrounding a restored river," said Gwen Macdonald, director of habitat restoration for Save the Sound.
In addition to a complete change in appearance, the West River also functions much differently now. Alewives and river herring are able to spawn upstream now that the river is connected. Native wetland vegetation has improved and prospered to the point that Pond Lily now serves as a seed source for the New England Wildflower Society and national seed bank.
Pond Lily has since received an additional grant to monitor the site for five years post-removal to track changes in vegetation, geomorphology of river and fish passage.
Pond Lily was funded by the U.S. Department of Interior's Hurricane Sandy Coastal Resiliency Competitive Grant Program, National Fish and Wildlife Foundation, Long Island Sound Futures Fund and the U.S. Fish and Wildlife Service. Project partners include Connecticut Fund for the Environment / Save the Sound, Restore America's Estuaries (RAE), National Oceanographic and Atmospheric Administration (NOAA), City of New Haven, Town of Woodbridge, New Haven Land Trust (NHLT), Solar Youth, Common Ground High School, Connecticut Department of Energy and Environmental Protection (DEEP) and the Atlantic Coastal Fish Habitat Partnership as the project endorser.
For more information on Pond Lily, visit https://medium.com/usfishandwildlifeservicenortheast/stronger-communities-pond-lily-nature-preserve-c71a8ef72ba1 to access a recent video on the project.
See this post as it originally appeared on The New Haven Independent.